Whether you know it or not, you are part of a tribe. It's a community of shared interest, passion and purpose. It connects you to others, virtually and in-person. A talent. A hobby. A craft. It shapes your identity, but it's not the first thing you share with others.
It's your second you, and the community is your tribe.
Second Tribe is an identity apparel company. We collaborate with artists to create designs unique to your tribe that speak to who you are. Each design is created by an artist.
Some art. Some simple. Some fun.
We created Second Tribe because we wanted to make everyday apparel more interesting. That interest was driven by two desires: one, to support artistry and creativity; two, to focus on designs that celebrated communities of like-minded people. Through these communities we are inspired, and we put that inspiration into each design.
Our goal is to have every design be a conversation starter and for you to choose to wear Second Tribe to further express yourself.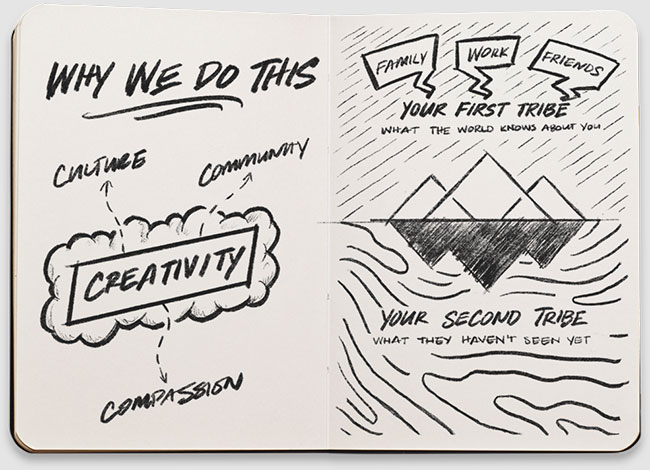 We live and thrive in a special place we get to call "home;" better-known to most as Atlanta. To us, Georgia isn't a state... it's a state of mind. This state is filled with layers of culture, history, and creativity - elements that inspired and live within our brand.
Our tribe isn't what you'd expect. It's a unique blend of friends and family who love and embrace the thrill of entrepreneurship along with every Collection that makes Second Tribe so unique. When you receive your order, just know that it was produced and hand-packed right here in Atlanta by some pretty awesome people. AN EXPERIENCE IN EVERY BOX
When your box arrives, the story begins.
From our packaging design and collection-coordinated crinkle paper to the design story and perfectly-folded garments, no detail goes unnoticed. Sending out your Tribe box isn't just a fulfillment process on our end... it's a commitment.
We believe that design isn't just what it looks like; it's an adventurous way of thinking. Therefore, we strive to provide awesome experiences with our products that change the way you think about apparel.